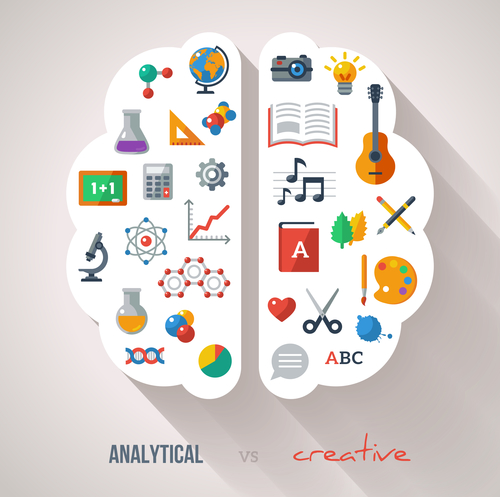 D. Thinking
The main purpose of our firm is to ensure that we are delivering a great experience across all client touch points. This requires a firm-wide focus on the client. Design Thinking is the ideal framework for us to use, because it focuses on developing deep empathy for clients and creating solutions that will match their needs - as opposed to just dreaming up and delivering technology and designs for designs' sake.
Design thinking is a formal method for practical, creative resolution of problems and creation of solutions, with the intent of an improved future result. In this regard it is a form of solution-based or solution-focused thinking – starting with a goal (a better future situation) instead of solving a specific problem. By considering both present and future conditions and parameters of the problem, alternative solutions may be explored simultaneously.
This approach differs from the analytical scientific method, which begins by thoroughly defining all parameters of a problem to create a solution. Design thinking identifies and investigates with known and ambiguous aspects of the current situation to discover hidden parameters and open alternative paths that may lead to the goal. Because design thinking is iterative, intermediate "solutions" are also potential starting points of alternative paths, including redefining of the initial problem.
At Race we have combined Design Thinking framework with Front End Engineering Design (FEED). We have learned that engineers know how to develop solutions, but they may be less careful in developing the right understanding of the problems. Our model has been formulated to shift greater focus onto problem understanding and development.
The process begins with some sort of trigger, which may, in fact, not be a problem at all, but an opportunity or a neat idea or innovation. It ends with a set of design objectives that have target specifications. Throughout the stages, we use a new concept of design validation to show the way in which both the design process and the product ideas are continually subject to validation and ultimately to testing, build, maintain and use.
A good FEED reflects all the clients project specific requirements and avoid significant changes during the execution phase. With our experience FEED contracts usually take around 6-9 months to complete for large sized transportation projects. During the FEED phase there is close communication between Project Owners, Operators and the Contractor to work up the project specific requirements.
Today the available transportation infrastructure design software packages and the relevant policies are designed to meet an engineering contractor's needs rather than these of an operator or a user. The use of Design Thinking to the transportation design process gives to our clients a competitive advantage as:
Owners shorten the investment horizon significantly.
Contractors build the Minimal Technical Solution (MTS).
Operators taste the benefits of the minimum total life cycle cost.
Users and communities experience the benefits of a safe sustainable mobility.
In Race we apply the Design Thinking and FEED frameworks when we are developing the WHY, the WHAT and for WHOM.
Tags: D. Thinking